In Zusammenarbeit mit der Trendforscherin und Farbwissenschaftlerin Ann Kristin Trost von HEAD OF COLOR wollten wir wissen, wie wir in Zukunft leben, welche Themen uns begeistern und welche Trends uns beeinflussen. Unsere Expertin von HEAD OF COLOR hat ihre Visionen und Einflüsse für uns bewertet und drei Trendthemen für uns definiert. Die daraus entstandenen Trendfarben wurden exklusiv für und mit dem Farbhersteller KOLORAT angelegt und angemischt. Ergänzend zu den neuen Nuancen und Tönen finden sich in wunderbarer Harmonie meine exklusiven MADEMOISELLE CAMILLE Tapeten.
The IDEA
In collaboration with trend researcher and color scientist Ann Kristin Trost from HEAD OF COLOR, we wanted to know how we will live in the future, which themes excite us and which trends will influence us. Our expert from HEAD OF COLOR evaluated her visions and influences for us and defined three trend themes for us. The resulting trend colors were created and mixed exclusively for and with the color manufacturer KOLORAT. Complementing the new shades and tones are in wonderful harmony my exclusive MADEMOISELLE CAMILLE wallpaper.
MELLOW ANTIQUE
Ein neues Jahrzehnt bricht an und mit ihm eine Retrospektive auf vergangene, historische Zeiten. Wenngleich alte Formen zu neuem Glanz geführt werden, so besticht die Neuzeit durch klare Linienführungen und aufgeräumte Muster. Die milden Farben unterstreichen diesen Charakter und verbinden die Neuzeit mit der Antike. Eine Symbiose, die schöner nicht sein könnte abgerundet in Farben voller Leichtigkeit und Eleganz.
A new decade is dawning and with it a retrospective of past, historic times. Although old forms are brought to new splendor, the modern era captivates with clear lines and tidy patterns. The mild colors underline this character and connect the modern age with antiquity. A symbiosis that could not be more beautiful rounded off in colors full of lightness and elegance.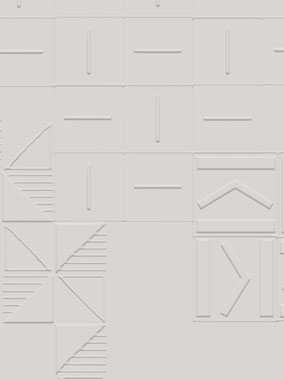 EXPRESSIVE BRUSH STROKE

Expressivität und Individualisierung sind gängige Themen der aktuellen Zeit. Menschen wollen gehört und Themen sichtbar gemacht werden sie schaffen sich dadurch ein Gehör. Dieses Phänomen nehmen wir auf und arbeiten künstlerisch fast zerstörbar mit wilden Pinselstrichen auf zartem Blattgrund.
Naturtöne werden durch das eklektische Lila und das expressive Pink aufgebrochen und neu interpretiert und versinnbildlichen lieblich, das Zusammenwirken von Mensch und Natur.
Expressivity and individualization are common themes of the current time. People want to be heard and themes made visible they thereby create a hearing. We take up this phenomenon and work artistically almost destructible with wild brushstrokes on a delicate leaf background.
Natural tones are broken up by the eclectic purple and expressive pink and reinterpreted and symbolize lovely, the interaction of man and nature.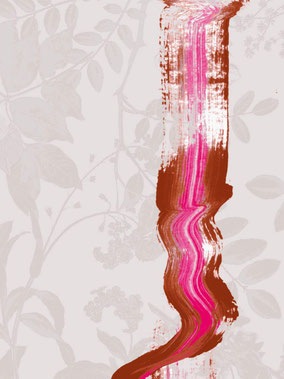 MYSTIQUE MOMENT

Das Mystische, oft nicht Erkennbare begeistert seit jeher. Dunkle Edeltöne mit Barocken Elementen und Blüten und Blattmotiven stehen charakteristisch für die geheimnisumwobene Welt.
Besonders spannend das Wiederaufleben längst vergessener Wesen der Tierwelt sowie der spielerische und naive Umgang mit wilden, gefährlichen Lebewesen in zarten Nuancen. Ein
Hineinfliehen in magische Gefilde, ein Entfliehen des Alltags und die Hingabe der Sehnsüchte vereinen sich in diesem Thema.
The mystical, often unrecognizable has always inspired. Dark noble tones with baroque elements and blossoms and leaf motifs are characteristic of the mysterious world.
Particularly exciting is the revival of long forgotten creatures of the animal world as well as the playful and naive treatment of wild, dangerous creatures in delicate nuances. A drifting into magical realms, an escape from everyday life and the surrender of desires unite in this theme.